MASSAGE ON THE HILL
Kuta Lombok's best professional massage in town !
Traditional balinese massage, in the middle of a green garden overlooking the beautiful bay of Kuta. A unique location. A delighful moment.
Professional therapist educated at Bisa School (Bali). 2 treatments maximum a day, offers the best quality possible. Massage on the Hill provides a massage of a 5* spa in Bali for a soft price.
Organic oils
90 minutes treatments only
On appointment – Open daily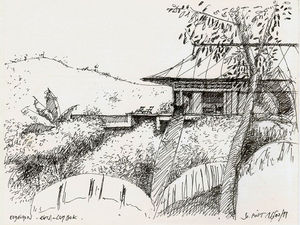 Reservation : 0370 666 59 65 – 081 802 778 157
(Illustration: Joel Biet)
Please read comments of customers below
NEW ACCOMMODATION : Eudaimon Lumbung - Bed and Breakfast

facilities from 58 euros per night* - Eudaimon Bed and Breakfast
www.kutalombok.wix.com/bed-and-breakfast
Unique view on Kuta's bay, French touch service (cook, massage, driver etc)
* breakfast included (low season January-February)